Medical credentialing
Manage the physician credentialing process automatically
Forget about complex, manual provider credentialing processes. Use PreferredMD to track documentation and expiration dates without relying on inconsistent excel files and wasting hours in the process.
Physician credentialing giving you serious headaches?
Medical credentialing processes are essential to any facility, its bottom line, and ultimately, the quality of health care you're providing. There's no skipping them.
But they can also get too complex and burdensome, especially as your facility grows and you don't have the digital support you and your team need:
You need to keep compliant with state and federal regulations and adhere to individual insurance company policies. All while ensuring data integrity and security at all times.

But if you're still doing it manually, your records created and kept by multiple people can get inconsistent, outdated, and messy (not to mention data privacy issues.)

When the time comes for re-credentialing a physician, it's near impossible to find all the latest paperwork. (That is, if anyone even remembers about the expiration dates in the first place.)

Add other essential but time-consuming processes like benefits verification or vendor management, and you're drowning in paperwork and excel sheets. Or, at best, logging in and out of different platforms while still not being able to keep up.
Request and track physician documentation in one place – paperless and pain-free
Automate and centralize the physician credentialing process, along with vendor management, benefits verification, and more. All in one user-friendly and HIPAA-compliant platform.
No more bottlenecks and hours or income lost in the physician credentialing and recredentialing processes. Sign, upload, and track documents in one place without having to go through tons of hard copies every time.

Easily request licenses and custom documents via email and text notifications to any healthcare provider. Avoid mix-ups and delays, and quickly complete relevant missing information.

Track expiring documents and protect your reputation with automated notifications for both your facility and healthcare providers. Despite everyone's busy schedules.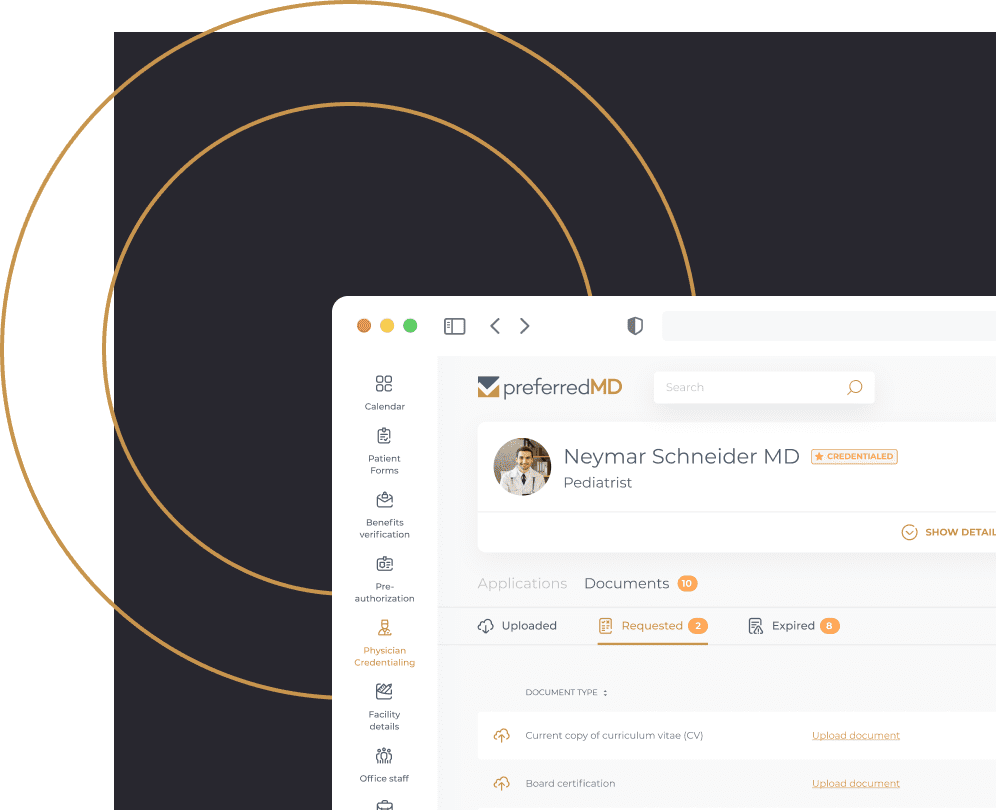 Get HIPAA-compliant document storage and messaging
Using complete end-to-end data encryption, the PreferredMD servers provide secure HIPAA-compliant storage and transmission of data and documents between the physician and your facility.

Meet the always-changing compliance requirements and standards when storing and sharing data internally and externally.

Communicate with a provider using a built-in chat function for secure instant conversations, smoother communication, and considerable time savings.
Create and send customized forms and agreements
Easily create, store, and send forms such as specialty privilege requests, agreements, acknowledgments, and other documentation required to complete a credentialing application.

Customize your application to your facility's needs and requirements and send it to the physician to edit and save at any stage.

Prevent delays in the medical credentialing process and avoid interruptions in treatment for patients and loss of income for the physician and your facility.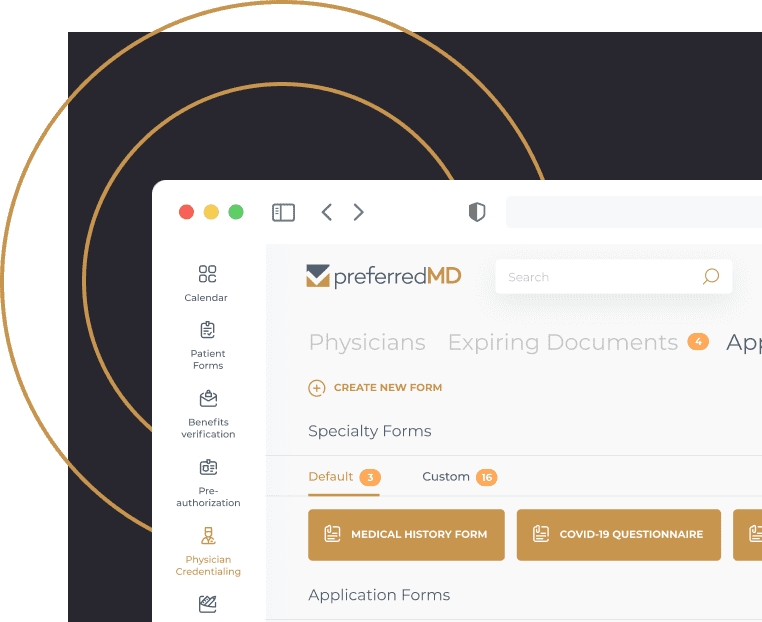 Get ahead of deadlines and expiration dates
Use the credentialing tracker for ASCs to visualize the entire healthcare provider's journey from invitation to completion.

View and filter the application status for all physicians at a glance in one clear dashboard.

Get notified automatically when the expiration date is approaching. You already have too much on your plate anyway.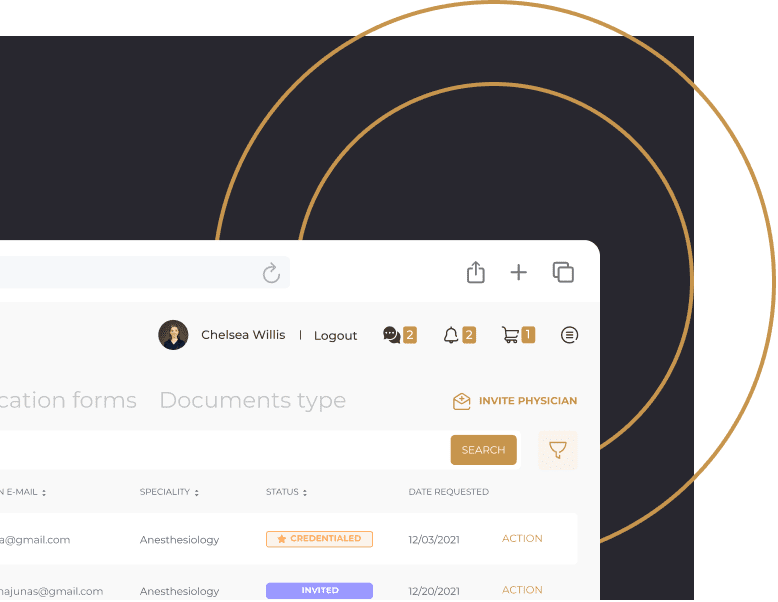 Are you a physician?
The standard medical credentialing process can take anything from 90 to even 150 days. PreferredMD can help you make credentialing and recredentialing with your facility as short and efficient as possible, all in one easy-to-use platform.
Get notified automatically when your credentials expire and when it's re-credentialing time.
Send and receive all documentation in one convenient platform.
Securely communicate with the facility to clarify questions and complete missing information.
See how others use PreferredMD to reduce the complexity of healthcare management
PreferredMD's online surgical booking platform is amazing! It makes communication from my office to the Surgery Center seamless. I can drill down on the schedule for patient information and procedure details. I can maintain a library of procedure templates. There is also a financial analysis tool that projects reimbursement. This tool changes everything!
Streamline all processes with one easy-to use digital platform for physicians and facilities
Frequently asked questions
Medical credentialing is the application process of a healthcare
facility to review legal qualifications and allow a healthcare
provider to use the facility.
The process involves providing legal documentation such as federal,
state, or local licenses to validate the healthcare provider's
training and provide safe, effective treatment for the patient. The
provider credentialing process needs to be completed for each new
provider at a facility. Provider re-credentialing is required every
2-3 years, depending on the individual state requirements.
Similar to medical credentialing, hospitals and facilities are also
subject to regulations dictated by the Office of Inspector General
(OIG) and the National Committee for Quality Assurance (NCQA). These
federal entities outline the regulations in which facilities run their
credentialing process for physicians.
Credentialing compliance is the enforcement of the list of regulations
these federal entities outline. These processes include:
Credentialing

Internal auditing

Monitoring

Credentialing education

Development of plans of corrective action
Provider compliance in credentialing can be a tedious task when you have
to manually track documentation and expirable certifications and
licenses. That's why, when tracking a long list of providers, it's best
to work with an automated system where the credentialing coordinator can
request documentation and receive notifications in an automated
environment. Without ever risking missing an expiration date.